The DJI Osmo Mobile 2 is a handheld smartphone gimbal made forthe storyteller in all of us. Whatever your passion, whereveryour destination, and whenever you feel inspired, capturemoments with cinematic movement and incredible ease. Usinga lightweight design, intelligent functions, and a long-lastingbattery, the Osmo Mobile 2 lets you share your story.
Supports up to 3.3″ wide smartphones
Controllable Range: ±160° pan / ±155° tilt (horizontally mounted)
Mechanical Range: ±170° pan / -90 to 70° roll / ±170° tilt
Controllable Speed: 120°/s max
Battery: Up to 15-hour run-time / 18Wh capacity, 2600mAh
1/4″-20 tripod mount
GIMBAL
Controllable Range
Pan: ±160°
Tilt: ±155° (horizontally mounted)
Mechanical Range
Pan: ±170°
Roll: -90 to 70°
Tilt: ±170°
Controllable Speed
120°/s
Power Consumption
1.2 W (when balanced and static)
BATTERY
Model
2ICR19/66
Type
18650 lithium-ion
Capacity
18 Wh
mAh
2600 mAh
Voltage
7.2 V
Typical Run-Time
15 hours (when balanced)
Charging Time
2 hours
Charging Temperature
41 to 104°F / 5 to 40°C
Operating Temperature
32 to 113°F / 0 to 45°C

GENERAL
Compatibility
Physical: 2.3 – 3.3″ / 58.6 – 85 mm
iOS: 10.0 or later
Android: 4.4 or later
Wireless Mode
Bluetooth 4.0 LE
Mount Type
1/4″-20 tripod mount
Dimensions
1.2 x 4.3 x 2.8″ / 3 x 11 x 7.2 cm
Weight
1 lb / 485 g (including battery)
PACKAGING INFO
Package Weight
1.775 lb
Box Dimensions (LxWxH)
13.5 x 6.45 x 3.45″
The DJI Osmo Mobile 2 carries over most of the features from the original version and offers several key improvements. It's a bit lighter. The motion ranges are expanded. And run-time is tripled to approximately 15 hours!
Mount any smartphone up to 3.3″ wide and capture smooth footage in handheld operation. The Osmo Mobile 2 syncs up with an included DJI GO app to provide you with a comprehensive workflow consisting of multiple shooting modes and functions, including Portrait, Underslung, Flashlight, Time-Lapse, and Panorama.
Stable and Smooth Moves
The Osmo Mobile 2 was built to film on the go. Just select your subject andActiveTrack will follow, using built-in sensors and a brushless motors to ensure stability. Whether it's small vibrations from a skateboard or more intense instability from jumping, this smartphone stabilizer stays steady.
Lightweight and Portable
Now you can take your story anywhere. The Osmo Mobile 2 is made of a high strength composite material cuts the weight to just 485g, perfect for all-day use. Also, its modified design now supports more compact folding for increased portability. Move, shoot, and share with the Osmo Mobile 2.
Time in Motion
Turn everyday situations into incredible moments with Timelapse. Shoot blooming flowers and rolling clouds, recording all their movements in a stable shot. For an even more dynamic effect, Motionlapse lets you move with the camera while creating equally smooth video.
DJI GO App
ActiveTrack technology built into the app allows the Osmo Mobile 2 to automatically keep your phone facing you as you move
Modes/Functions: Standard, Portrait, Underslung, Flashlight, Time-Lapse (on the move), Panorama Live stream moments using YouTube Live
Take one-second long exposures to produce light trails, star trails, and dramatically blurred cars without a tripod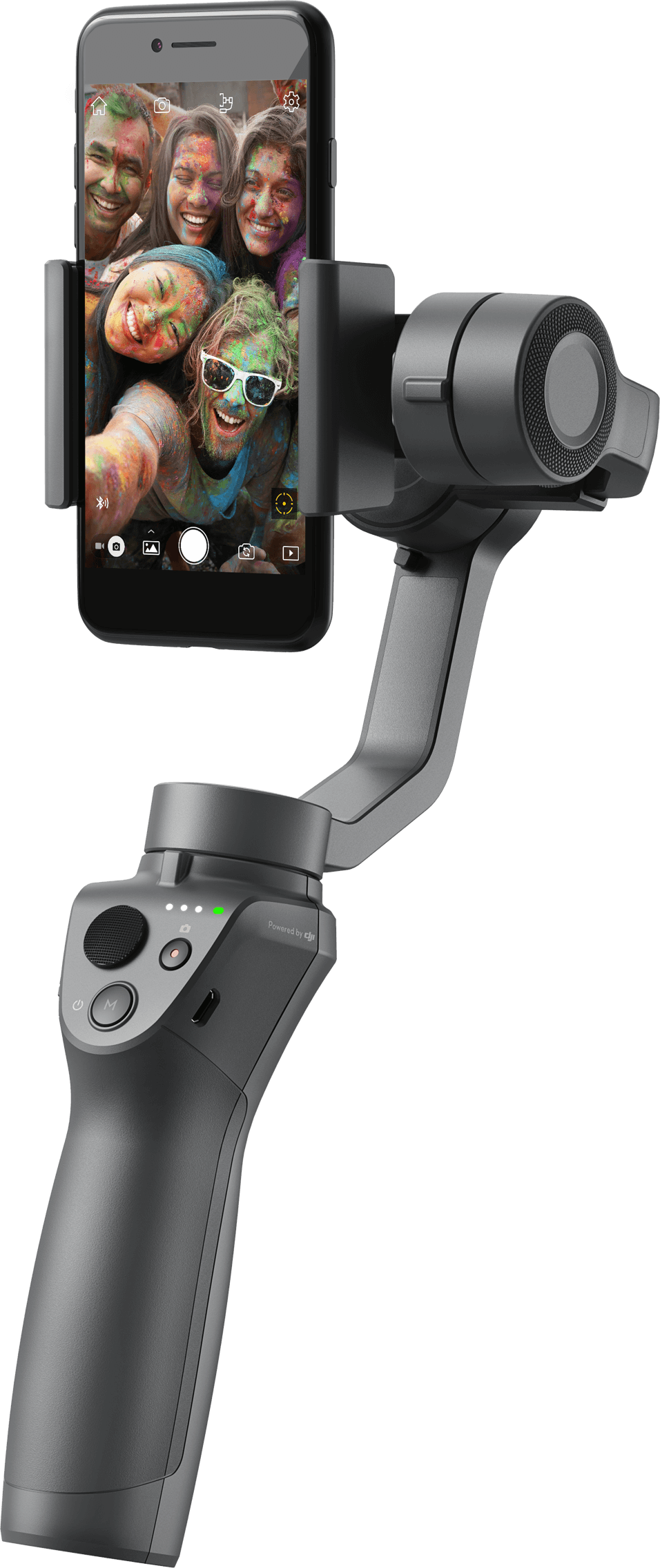 Reveal a
Bigger World
with Panoramas