With the Aputure Spotlight Mount, Aputure enters into a whole new class of modifiers with the introduction of the world's first Bowen's spotlight mount. Achieve a greater degree of control with the Spotlight Mount's internal shutter blades for sharp cuts. Acquire pinpoint accuracy when projecting your light with your choice of 3 different lenses.
Aputure Spotlight Mount; Achieve Greater Control
Aputure has announced the new Aputure
Spotlight Mount Set
to help creators ditch the inconvenience and easily form light to their liking. The modifier mount is interchangeable between three separate lenses and gives users added control using the internal shutters, dual slots for gels and gobos.
Aputure Spotlight Mount;Precision Optics
The three lenses for the Aputure Spotlight Mount Set were designed with professionals in mind. In addition to allowing the 120d II to produce 10 times its original output, the high-resolution lenses produce an even beam of light with minimal light falloff on the edges, while maintaining a shift in color temperature of less than 200 degrees Kelvin.
The Spotlight Mount's new lens technology minimizes chromatic aberrations around the edge of the illumination circle. Compared to similar ellipsoidal fixtures, the Aputure Spotlight Mount significantly decreases its edge color fringing to a mere 1mm at a distance of 5 meters.
Precise, Creative Light
Given that selecting adequate lighting can be time-consuming, costly, and at times require improvising the whole setup, the tools needed to shape the light can be overlooked but producers can achieve particular lighting with the Aputure Spotlight Mount.
With the option of 19-, 26-, and 36-degree lenses, users can create a range of lighting fields, from wide to narrow. The Spotlight Mount also has internal shutters to further craft the light to perfection and no more accidentally burning your hands on flaming barn doors! The clear lenses enhance light, by as much as 10x for the Aputure 120D II, and produce an even field with minimal falloff to avoid harshness. The Spotlight Mount includes lens technology to overcome chromatic aberrations and rids the shot of fuzzy color fringing: all the way down to 1mm at 0.5 meters.
Beyond standard lighting, the light modifier has a frame for gels and gobos for artists to use their creativity; users are free to project any color or shape the set requires. The Spotlight Mount also has a removable iris for users to further wield the light.
Like typical ellipsoidal lights, the Spotlight Mount also offers simple user-interchangeability between Aputure's 19°, 26°, and 36° lenses, whether you need a wider illumination circle or pinpoint accuracy. Combined with the internal shutters, filmmakers will be able to gain more control of the shape of their light.
With the included B-size Gobos, Gobo Holder, and gel frame, the Spotlight Mount allows for even further light manipulation, to easily project any shape or color you can think of. The optional removable iris also allows filmmakers to further hone in the shape and size of the Spotlight Mount's light output. The Spotlight Mount's dual slot design allows filmmakers to use both their Gobos and iris simultaneously.
In line with Aputure's other high-quality lighting modifiers, the Spotlight Mount maintains our philosophy of versatility and modularity by utilizing the Bowen's mount, for use with our 120d Mark II and 300d lights.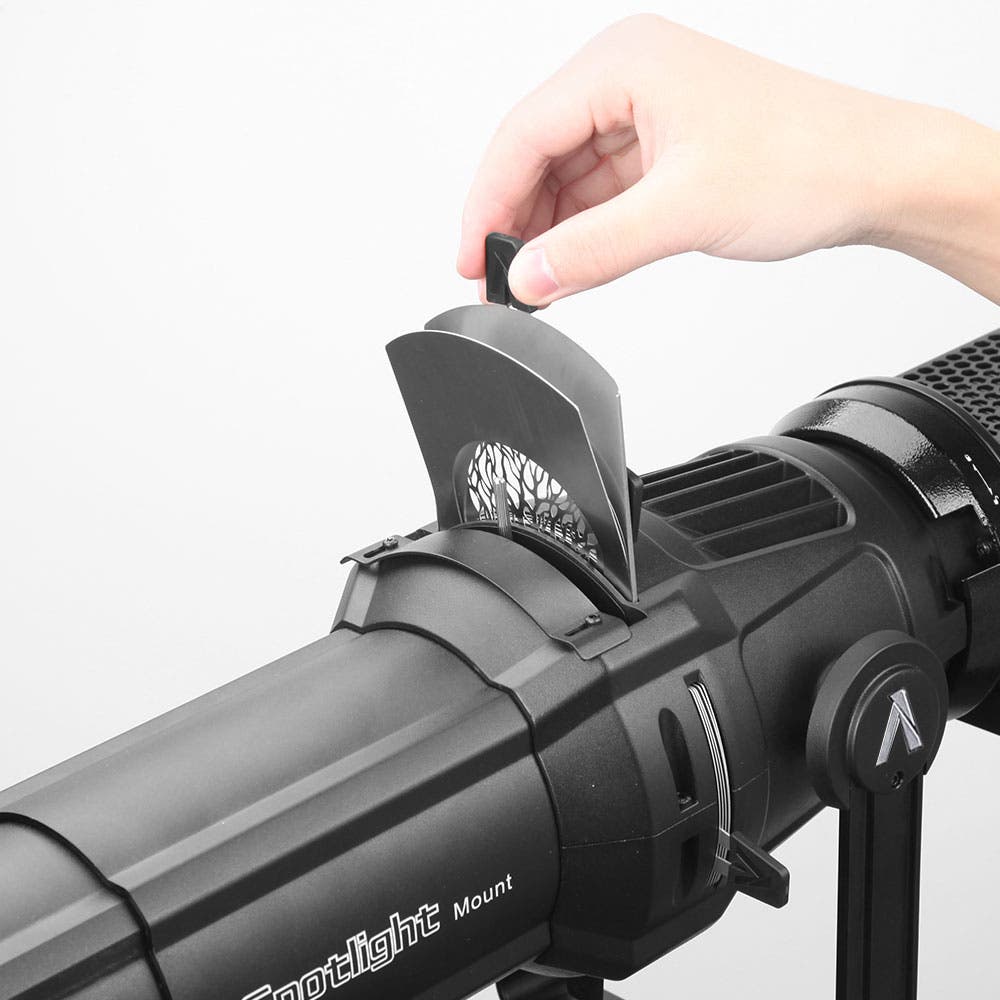 Modern, Versatile Build
Light modifiers are another piece of equipment to lug around, so the more agile the better. The Bowen's Spotlight Mount is fashioned with a lightweight, durable, aluminum alloy die-cast body, making it an easy carry without being fragile. The mount retains versatility with a Bowen's mount that makes it compatible with Aputure's 120D, 120D Mark II, and 300D lights. Lastly, the Spotlight Mount has a dual Junior/Baby mount that can be attached to a lighting grid in the studio or a C-stand and combo-stand out in the field.
The Spotlight Mount is created with rigging in mind. We gave the Aputure Spotlight a dual Junior/Baby mount so it can be attached to anything from a C-Stand to a Combo Stand or under-slung from a lighting grid.
The Aputure Spotlight Mount is built to last. With its aluminum alloy die-cast metal body, it maintains Aputure's standards for durability while utilizing a more lightweight design than typical tungsten ellipsoidal lights. The Spotlight Mount is ready for wherever your film-making adventures take you.
About 19° Spotlight Mount
1. Perfect for anyone who needs max. Light output and wants accurate control of light beam.
2. Suitable for large setup when you need the Light beam to be strong.
3. 19° Spotlight Mount has twice the light output of 36° and 20% more than 26°.
4. It's beam diameter is approximately 1/2 of 36° Spotlight Mount.
About 26° Spotlight Mount
1. If both light output and beam diameter is important to you, this maybe the perfect solution.
2. It has approximately 20% less output than 19° Spotlight Mount.
3. Beam diameter approximately 65% of 36° Spotlight Mount.
4. More versatile comparing to other 2 options design suitable for more kinds of setups.
About 36° Spotlight Mount
1. Perfect for restricted setup where wide beam of light is required;
2. At 3m distance, it has a beam diameter of 180cm which is twice as wide as 19° Spotlight Mount;
3. 36° Spotlight Mount has the least light output among the three options.